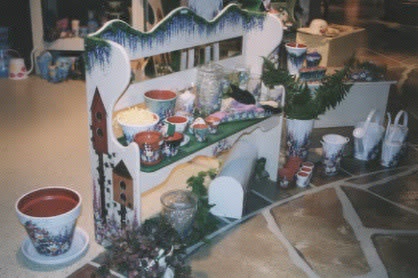 Our Products
Flower Pots Storage Benches
Watering Cans Plant Stands
Mailboxes Flower Buckets
Candles Hats
Acrylic Serve Ware Garden Benches
Product Info
Flower pots & Saucers
---
Our handpainted terra cotta flowerpots and
saucers are an artistic twist to a timeless
favorite, with styles that are sure to complement
any decor. Each piece is sealed for water
resistance with a hardwood floor finish,
making them completely functional, in addition
to being beautiful.
Watering Cans & Flower Buckets
---
Watering cans and buckets are of the highest
quality and have a white background.
They are truly exquisite when handpainted
by our wonderful artists.
Mailboxes
---
Our mailboxes are standard size and available
in white or black steel. We use a sealer for
durability and water resistance. They make a
beautiful addition to any home or office.
Candles
---
Our candles are almost too beautiful to burn!
But just in case, each one is handpainted with
a special technique, which prevents the paint
from burning. Must see to believe the beauty!
Acrylic Ware
---
We are so excited about our newest addition to the
family, acrylic serve ware to meet all of your
party and lounging needs!
We recommend hand washing.
Not microwave safe.
Hats
---
Our hats are not only beautiful, but also very
durable and make the perfect gift for
any gardening enthusiast.
They are made from Ecuadorian palm
and are simply gorgeous.
Benches and Plant Stands
---
Each piece of our wooden furniture is handmade
when ordered and painted with great
attention to detail. The furniture
is made of pine by an experienced
woodcrafter who hand selects each
piece of wood to guarantee quality.